2023 Christmas Tree Shop
Our 2023 Christmas tree shop is now OPEN
We are open from 9:0am to 6:00pm Mon to Saturday
and 12:00noon to 6:00pm on Sundays right up to Christmas.
Location
5 Peartree Hill
Belfast
BT16 1XA
Off the Dundonald to Comber Road
Awards
Irish Supreme Champion Grower
We are delighted here at NI Farm Forestry, Ireland leading Christmas tree grower, to have been crowned champion Grower of the Year for 2019.
One of our Nordman Fir won best in class and went on to win the Irish Supreme Champion.
One of our Spruce was runner up in the alternative species category. This is the first time a grower from Northern Ireland has won the Supreme Championship.
Pictured - Tony Johnston with the winning tree and ribbons...
N.I. Farmer of the Year
We were delighted to be runners up in the Farming Life Farmer of the Year 2019 competition.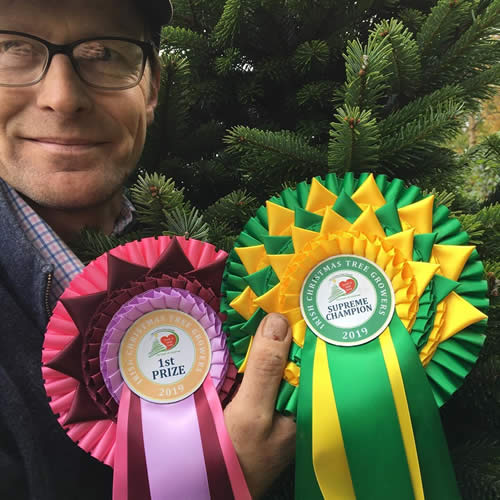 NI Farm Forestry - Leaders in our fields
Christmas Trees Trade and Retail
NI Farm Forestry are the largest growers and retailers of Christmas Trees in Northern Ireland. Catering for both retail and trade sales we are ideally placed on the edge of Belfast. ... click for more on Christmas Trees
Looking for your Christmas Tree this year? At NI Farm Forestry we grow all our own trees so quality is assured, trees are available at all sizes, types and for all budget. Trees are only cut as they are required throughout the festive season, this guarantees the freshest christmas trees available in Belfast.
At our Christmas shop we always have Wreaths, Christmas Tree stands and logs for your festive fire.
Wreaths are available from value grave wreaths to fully hand made and decorated florist style festive wreaths. Wreaths can be made and decorated to suite your style or colour theme.
Forestry Planting and Management
NI Forestry Services offer a woodland establishment, woodland management and a general forestry contracting service.... Click here for more details on our Forestry Service.
Our aim is to work with landowners to ensure that they get the woodland they want that is environmentally appropriate and makes use of available grant aid in the most efficient way.